So my friend Debi did a sly one this morning - and yes, I am tagged. For you girl, I will do both. And you, busy reading here, you're tagged as well:
Here's the rules:
Stop
what you are doing
right now
and take a
picture
of
you
rself
.
No prep work allowed!
You must take the picture
exactly
as you are right now...
you may
not
go put on
makeup
or
brush
your hair or change your clothes.
So here I am right now at work in casual Friday
clothes
- bet you have never seen me with glasses before! Check out the tissue, yeah after the cold we now have sinus brewing.
She also gave you the alternative to talk about Tuesday's blog party. Now head over to her blog and have a look.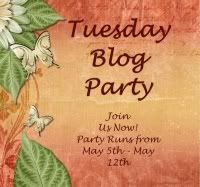 I will not go into a long discussion about this but please click this button and have a read on the blog and participate either by donating or betting or both.
I have two cute little African
titbits
that I will donate for the auction - so look out for that on the 5
th
of May and place your bets for a tiny piece of Africa. I promise to post about them soon.
So yes, if you read here you are tagged - either to place your photo or to talk about Tuesday's blog party - or why don't you do both like I did?