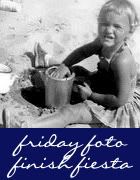 Pop over to Carrie's right now - TGIF!
It's
Oupa's
(Grandpa's) birthday today and we all sang Happy Birthday this morning over the phone. We hope you have a great year and we see you more. We love you to bits!
They share names.
And they share the same hands and feet.
And they share such a special bond - his first grandchild and the little girl he never had himself.