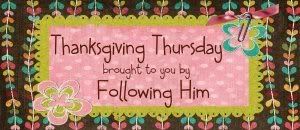 Playing along with Thanksgiving Thursdays now at Elyse

And Thankful Thursdays at Laurie

Wow, I am actually having a good day today. What a change for a Thursday.
Today I am thankful for:
1. A good week - the kids all seem mostly content and happy. It is a
biggy
for me! Thank you dear Lord for this - I really need it right now.
2. That
Bookclub
at my place went so well on Tuesday night - the girls loved the food - mom's chicken pie,
cus
-
cus
and butternut salad and a big mixed salad with nuts and fresh asparagus complimented with
ciabatta
bread. For desert we had strawberries and cream.
3. For my dishwasher - referring to 2 you can guess why.
4. For lovely hot summer weather.
5. Kids sleeping through again for the last 2 nights after a few rough ones.
6. My tidier than usual home - I have been making more of a
de
-cluttering effort lately and I am really enjoying the results.
7. Barney! Yeah, I love that purple monster mostly because he is my best electronic baby-sitter.
8. For The Lil' Miss' school who has these great little projects to inspire them (refer to yesterdays silkworm post).
9. For my mom who makes my life much easier by carting the Lil Miss around to ballet.
10. And looking forward to a quieter and relaxing weekend - I need it!
I know that I may have some prayer warriors reading here today, so if I could be so bold as to ask you to keep my little man C in your prayers for Tuesday (which means Monday night if you live in the USA). He is getting grommets too and his mommy is very nervous although we went through this with his brother just a week and a bit ago. Thanks!
*************************************************************************************
I have to share my
Bookclub
table with you - as it is
breast cancer
awareness month here, I decided on pink as a theme and kept it very
girly
. So, what do you think about my table and decorations?
The center piece is compiled from a pink feather handbag belonging to the Lil' Miss, some roses from my mom's garden and a plastic "crystal" necklace also belonging to my 4 year old. Cost of the decorations - zero, nothing, mahala (as we say here - Xulu word for nothing).