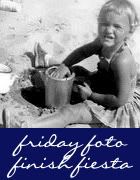 So we have a gardener - no, we are not super rich etc. In South Africa work is
scarce
, some people are still uneducated and yes, we employ people to help in our homes and gardens because that way, we help to feed one more family. And it gives us the chance to spend longer hours at our respective jobs.
Moses works at our house every Tuesday and is quite a character - he is a Rastafarian (yeah, sometimes the smell of the holy herb still hangs around a bit), but has a really good heart, pleasant character, green fingers and a very creative mind. In his spare time he makes little statues and draws. A week ago Hunter asked him to take out the crappy looking plants next to our front door. This week I provided him with some pebbles and rock roses - this is the result:
We just
love
it!
So pop over to
Carrie's
who hosts this great photo event on Fridays and play along to! This is my 21st 4xF!