From now until May 12
th
, I am holding this give-away to help benefit the
Tuesday Fiona

Whitt

Foundation
.
Tuesday was the beautiful twin daughter of Jessica Kate who bravely fought and sadly lost her 8 month battle with stage 4
neuroblastoma
in January of this year. May moms all over the world was touched by this brave girl and her very brave mom's and family's fight for survival.
Debi and her friends Jess' multiples group have decided to put together an annual blog party to help raise funds to fight pediatric cancer, specifically
neuroblastoma
, as it is the least funded of ALL cancers yet one of the most fatal :(
The idea is also that this serves as a Mothers day gift for Jess - for whom this year will without a doubt be difficult - all the firsts after a death is so difficult.
I have though long and hard as to how I could be part of this - I so much wanted to do my little bit to help. Firstly our money is worth nothing in terms of dollars, and secondly, if I do win a bid I will have the shipping/postage problem that I have had before - expensive and difficult here as a lot of packages get stolen. Then I hit upon an idea - I need to put up some truly South African items for bidding - something that is small enough to ship in normal postage -
beadwork
off course! South African women are world famous for the beading skills and I have chosen 3 items that also benefit a charity here, in order to do a "double whammy" for charity. These items were all made by the
Topsy
foundation if you would like to know more about them. Please note that all these items are small in size, but big in quality and handmade wholesome goodness. Each is also a unique little piece of African art.
All you have to do to enter to win this auction is simply leave me a comment letting me know you are interested in winning the particular item and then, be sure to donate $1 to the Tuesday Fiona
Whitt
Foundation. I will do 3
separate
posts in order to give you the chance to bid on each item
separately
. I will then let each of the kids do a draw
for
one of the items and show you the winning number.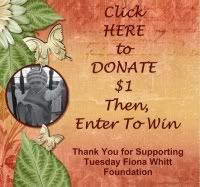 Also, head on over to the Tuesday Blog Party to see what other fantastic items are being auctioned off by clicking the image below.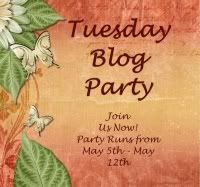 There are lots of great auctions going on and all it costs is one dollar to enter each one.
If you would like to make one donation, instead of many individual donations, please feel free to donate however is easiest for you.
If you end up donating $10, but only find 5 auctions you are interested in, you can use those additional dollars as additional entries :)
Thank you so much for supporting a great cause and remember to have fun!
Good luck!