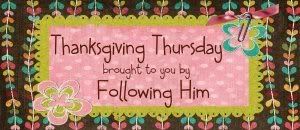 Playing along with Thanksgiving Thursdays now at Elyse

And Thankful Thursdays at Laurie

It seems to be a pattern here - Thursdays turn out super crappy. So it is great to have to recall my blessings on a Thursday and turn the mood around to the positive.
So today, I am thankful for:
1. More time with Hunter and more time for us as a family.
2. That little Leo went through his surgery almost without a glitch. This morning he had a bit of pain, but he is fine.
3. That Chris will have his ears fixed soon! We hope that this will improve his balance as I am really on the verge of permanently putting him into a helmet.
4. Chocolate - need I say more?
5. Summer fruit! The watermelons are just starting to ripen and the peaches are looking great. I love summer fruit.
6. It is asparagus season! My
fav
veggie
. Got to make the most of the limited time available and eat heaps of it.
7. Guess who went potty for the first time on Monday night? Leo! My money was on Chris. He has been showing signs for ages and no interest from Leo guess who actually sits on the potty before bath time? And then does it!
8. On Tuesday my dad would have turned 80. I am sad to have missed him most of my life, but so glad that my mom kept his memory so alive for me.
9. Apart from last night which was one of those nights that they should tell high school kids about to frighten them of sex, we had
9 nights
that The Boys slept through regardless of ear infections and an operation. Let's hope last night was just a fluke.
10. Its Summertime! Need I say more. I love summer - I am a summer baby. Today, our high will be 89.6 F (32 C). Just fine with me.
And for your viewing pleasure - the typical South African child on her way to
pre
-school for summer:
Note the cap or hat - no going to school without this. In the school bag will be sunscreen. For those who are new to this blog - note the bare feet. Walking with bare feet is somewhat of a tradition - everyone does it in summer time. Our nursery schools have a time in the year when kids must wear shoes (autumn/winter) - for the rest they encourage bare feet as part of natural development.