I am
tired.


I am way over

stressed.


I am

sick

(once again)
Apart from Tuesday night, I have

not slept

through a night in weeks.
For the last two weekends I have taken

all the childcare responsibilities

on me.
I have had it!

With absolutely spotless timing my precious MIL is

coming

for a visit on Tuesday night. She has offered to sleep in the room with The Boys and I know that for one week I can at least leave some of my responsibilities to her.


Now that is a huge item to note for Thanksgiving Thursday!!!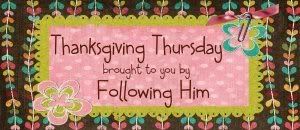 Playing along with Thanksgiving Thursdays now at Elyse.


You see, I am just out of sorts - it has been a very very tough year. I remember thinking back last year with The Boys' first birthday that we have made it! The next year will surely be easier. In many ways it has been tougher. Hunter and I are both trying to get back to our interests which involves us doing more "single" parenting at times to free the other, where in their first year we did not do much of it. His guiding means I spend weekends alone, which are often tough and exhausting. But getting easier every time. His studies also takes his time and I greatly admire his dedication towards making a better career for himself and for us.Off course, it means that I take getting up at night for the kids and looking after them on weekends on myself. He tries to help at night but frankly, I have taken this too much on me - now the kids want nothing to do with him at night. My own fault for trying to help him out as much as possible I guess. At times I just feel that I have nothing left for myself. I don't even want to talk about work - it is stressful and tiring. I am also so "down" about us not being able to go on a proper holiday again this year - Hunter just can not get leave. But I can handle all this - what gets to me is that I am still sick - I can not seem to get any better. I am getting the one cold after the other, the one tummy ache after the other and on Monday, I had a terrible

migraine

. According to the pharmacist, she hears it a lot from people that had the pigs - it takes months to recover. Just rest and a lot of vitamins she suggests. And off course as my

SIL

pointed out yesterday, rest actually means sleeping at night and then a bit. So not happening right now! Maybe next week, with my MIL visiting and two holidays, who knows! Definitely something to be thankful for.



I just have to point out that Hunter truly helps as much as can be expected of him. He has way too much on his plate as well, even more than I do. And he is also still constantly sick. This is not my hubby's fault - it is just circumstances.